Local NHS staff including COVID-19 researchers, a service who transformed their entire way of working, and a team who supported dying patients and their families throughout the pandemic have been named Northern Care Alliance NHS (NCA) Foundation Trust Staff Award winners.
On Friday, December 3, 10 awards were handed out to individual and teams across the NCA. Unsuspecting winners were joined in their workplace by a range of NCA directors who paid tribute to their amazing contribution to the organisation.
Amongst the winners was Intensive Care Unit (ICU) Consultant Dr Jay Naisbitt who was surprised in the middle of a shift by Chairman Professor Michael Luger.
Professor Luger presented him with the Chairman's Award. Dr Naisbitt, who works in ICU at both Fairfield General Hospital and Salford Royal, won the award for being a guiding light in Fairfield's work to integrate research into routine practice and facilitating patient participation in urgent public health studies.
His other achievements included building a team drawn from respiratory medicine, anaesthesia and critical care, who then worked together to break down traditional departmental boundaries to rapidly design and deliver new pathways of care.
Dr Naisbitt and his colleagues were also the first in the UK to start the RECOVERY-RS trial, which is the largest global non-invasive respiratory support trial for COVID-19. The trial involved comparing the effectiveness of three ventilation methods.
Upon receiving the award, he said: "Although this award is individual, I am just a representative of the wider team that continues to support both COVID and non-COVID patients across the NCA. It recognises our achievements both within critical care and respiratory medicine in delivering better than expected outcomes throughout the pandemic and the pivotal role research has taken in improving the quality of care delivered to our patients and their loved ones."
At Fairfield General, the Theatres Team found out they had won the NCA's Team of the Year due to their incredible response to the pandemic, transforming their department into an Intensive Care Unit almost overnight.
Tracy Jenkinson, Lead Nurse on the department, received the award on behalf of the team. She said: "I'm just overwhelmed, we all are really. It's just such a fantastic achievement after everything we've been through. Our team have been so resilient, and we've pulled together so well, whether we're nursing colleagues, surgeons, anaesthetists or one of our many and varied support staff. I feel like a proud mum today and I'm so happy that the team have been recognised for their fantastic efforts. It's brilliant."
A speeding up in the turn-around times for tests and a reduction in nosocomial infections (infections that start in a hospital) are just two advances that are credited to the work of Dr Joel Paul and Dr Paul Chadwick throughout the pandemic.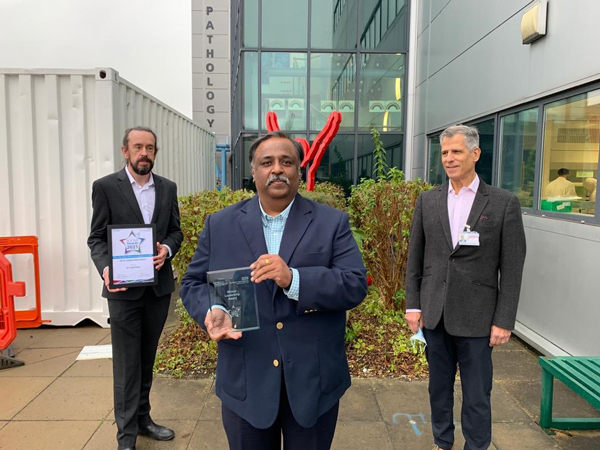 Dr Paul, a Consultant Virologist, and Dr Chadwick, a Consultant Microbiologist and Clinical Director, were presented with the NCA Leadership Award. Dr Paul received the award on their behalf at Royal Oldham Hospital and said they owed their accolade to the team around them.
He added: "When you start your career as an infection doctor the whole world is open to you, to discover new things, with all kinds of small discoveries taking place all the time. But there's now one, all-encompassing thing that we are all working on, which has brought us together. New infection doctors coming into the field have a different focus, but this field is still so interesting and constantly evolving."


At a time of great uncertainty in the pandemic and when visiting restrictions meant families were facing losing loved ones without being able to visit, the Cygnets scheme was introduced. Cygnets were volunteers who came from all over the NCA to provide support at a heart-breaking time for patients and their loved ones. The team included student nurses, allied health professionals, colleagues whose normal roles had been stood down due to the pandemic, senior leaders and colleagues who came out of retirement to help.
They stepped into the role of patients' family members, spending time with patients, talking to them, reading to them, providing emotional support and comfort and being an important communication-link between patients and their families.
The Cygnet Team were named as the NCA's Volunteer of the Year.

For a full list of all NCA winners, click here. In addition to the 10 NCA winners, over 40 other individuals and teams were awarded for their contribution to their Care Organisation, Diagnostics and Pharmacy and Corporate Services. You can also find details about them at this link.
All winners were selected from a pool of over 600 nominations, which were made by NCA staff members.
NCA Chairman Professor Luger said: "Our Staff Award winners are representative of our fantastic workforce who for almost two years now have pulled out all the stops under the most difficult of circumstances. Choosing winners was the hard part but reading all the nominations to get us to this point was a joy.
"Not that we needed reminding but it was clear to us, that despite the challenges of COVID-19 our staff members have still achieved some amazing things for our patients, service users and each other.
"Via the Staff Awards, we've shone a light on a group of individuals and teams across the organisation but we are in no doubt that our winners represent a 20,000-strong group of stars."