Important Information for Your Safety

Safe, Secure – Here for you
Thank you for observing our strict safety measures when attending our hospitals.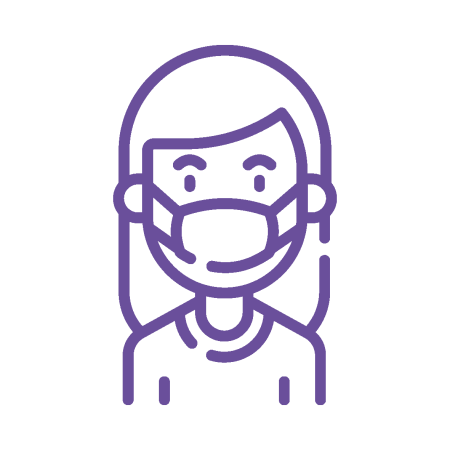 All patients and visitors must wear a mask when within a building/enclosed space across our sites. You will be given a mask when you arrive for your appointment or treatment, please ensure that you follow these guidelines:
DO
Wear your mask at all times unless told otherwise by a member of staff
Use the mask properly - ensure it covers your nose and mouth. Do not allow to dangle around your neck.
Wash your hands before putting your mask on and taking it off
Ask a member of staff for a new mask if yours becomes soiled/very damp
Dispose of your mask each day, you will be given a new one when you need it by a member of staff if you are with us for more than one day
Wear your mask when you are in areas of the building where you will come into contact with other people
If you have to remove your mask for any reason, fold it in on itself and place in your pocket/bag to be re-used
Continue to observe social distancing, keeping at least 2 metres from other people
Exemptions around wearing a Face Mask - click here
For further guidance on the use of a Face Mask on our sites - click here.
Infection Prevention Control - 'Smile Behind the Mask'
Only one relative or household member can accompany you in the A&E department in any of the circumstances below:
They are with a patient receiving end of life care
They are a parent / responsible adult visiting a child
They are supporting a patient with mental health or learning disabilities
They are a birthing partner accompanying a woman in labour
Please register with A&E reception and remain there until you are seen by a clinician.
Please use the main hospital entrance for all appointments. Do not use separate staff entrances
You must have your patient appointment letter and form of ID with you at all times
You will not be able to bring anyone else into your appointment with you, unless you require a carer
Back in November, along with other hospitals in Greater Manchester we took the difficult decision to cancel some planned operations to help deal with the increased number of cases of Covid 19.
In recent weeks the number of people in hospital with Covid has started to fall, as have numbers of cases in the community. Covid will be with us for some time, but we hope we are moving permanently away from the intense pressure the NHS has seen over the last year.
Due to this we are now pleased to report our plans to restart planned care and begin to catch up on the backlog of people waiting.
Our consultants will be looking at who has the greatest clinical need and who has waited the longest, and prioritising people against these two key principles as each service gets back up and running.
We may be asking people to see a different consultant for their treatment, or have their procedures in a different hospital to the one they may have expected to have gone to, including private hospitals in the independent sector.
If patients are invited to have their treatment in a different place or with a different team and have any concerns they will be able to discuss this with a clinician to talk about options.
We know many people waiting for treatment will be disappointed or worried, and we will be contacting everyone affected as soon as possible over the coming months. Please continue to bear with us.
Thank you to our patients for their continued support and patience.
In response to the COVID-19 pandemic visiting and support to partners within maternity has been reduced at our site in Oldham since March 2020. We have always supported women in labour having their birth partners with them and made sure that partners or a support person can spend time with loved ones on the postnatal ward we have had to restrict partners/ support person visiting on the antenatal ward, during the induction process and in the antenatal clinic and scan departments.
We have maintained these restrictions in order to ensure the safety of women and babies in our care. We recognise that for many of our patients these restrictions have been upsetting at significant moments in their lives, but we would like to assure patients and staff that we have been reviewing these restrictions regularly and have been keen as an organisation to relax them as soon as it is safe to do so.
Translated maternity safety advice materials
We are pleased to say that we are now at a point where we feel it is appropriate to relax our visiting restrictions as follows:
Scans
With effect from Monday 21st December women attending for their dating or 12 week scan can now attend with their partner / support person.
Women attending the early pregnancy unit can also attend with their partner / support person.
We are asking that patients do not bring children to scan appointments as we are unable to provide a safe space for them.
Antenatal visiting
Women who are inpatients on the antenatal ward can have one visitor per day between the hours of 4pm and 8pm with immediate effect.
Inductions
Birth partners can now accompany women when they attend for an induction and remain with them whilst the initial induction of labour process is undertaken (approx. 2 hours) after which they will be asked to leave. They can then visit during the hours of 4pm and 8pm with immediate effect.
Currently we are unable to facilitate birth partners staying overnight on the ward during the induction process. Birth partners are able to return to the hospital at the point at which women move to the birth centre or labour ward.
Antenatal clinic at the hospital (Oldham and Rochdale)
From Monday 4th January 2021 partners or support persons can attend for the booking appointment and for any appointment where the plan is to be discussed about how the baby will be born.
Guidance for all women attending our maternity unit
In order to maintain the safety of all women and staff within the maternity unit we would like to highlight the following:
Visitors should be a member of your household bubble
The same visitor should be supporting you throughout your pregnancy journey
We would ask that you do not bring children with you to any scan appointments or onto the wards
Masks must be worn at all times by visitors
Women and visitors must regularly wash/sanitise their hands and you will be asked to gel their hands on arrival at the hospital.
Visitors should not attend if they have any symptoms of Covid19
Visitors should not attend if they have been advised to self-isolate.
Visitors should ensure they maintain the appropriate social distance 2m from others
Further planned changes
These are the first in a number of relaxations in visiting we intend to make over the coming weeks.
We hope in the new year to support partners / support persons to attend the anatomy scans and for longer during the induction of labour process.
On behalf of all the maternity team we would like to thank our local communities and families for their patience and we will continue to update you in the new year about further relaxations of our visiting policy.
Thank you
Simon Mehigan
Director of Midwifery
Northern Care Alliance NHS Group

The NHS vaccination programme continues to make strong progress. Thanks to the thousands of people involved, in just three months the health service in England has given the vital first vaccine dose to more than half of all adults , opened more than 1,600 vaccination services, and visited over 10,000 care homes.
Take-up of the vaccine has been strong; nine out of 10 people aged 65 and over have already taken up their first dose.
Everyone in the top nine priority groups is now eligible to book theirs, and millions of people have done exactly that over the last few weeks.
So if you are in an eligible group – meaning you are 50 or over, have a health condition that puts you at greater risk, or are a health or social care worker – and you haven't booked your first dose yet, the time to do so is right now.
It's quick and simple to book at nhs.uk/covid-vaccination or by phoning 119, and the vaccines are safe and effective.
If you already have an appointment over the coming weeks, whether for your first or second dose, this remains in place and it's really important that you attend it as planned.
The first dose of both the Pfizer/BioNTech and Oxford/AstraZeneca vaccine offer good levels of protection, but to get maximum protection everyone will need to get a second dose, so we are urging people to come back when they are contacted or if they have an appointment booked.
Millions of people are already benefiting from protection from the virus and we are seeing this result in the welcome fall in infections and hospital cases.
But NHS staff are still having to work hard to deliver the largest vaccination drive in our history, at the same time as providing care for everyone who needs it.
So we need the public to continue to play their part too:
unless you are in the groups being invited now, please don't contact the NHS to seek a vaccine, we will contact you when it is the right time;
please attend your booked appointments at exactly the time you're asked to, and make sure you come back for your second dose;
and whether you have had your vaccine or not, please continue to follow all the guidance in place to control the virus and save lives